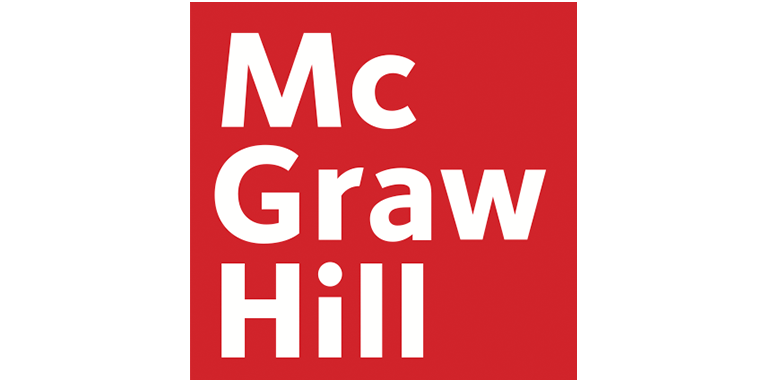 Company
McGraw Hill's K-12 division has an unparalleled impact on students and teachers around the globe. With core, supplemental, and intervention instructional materials across all subject areas, print and digital and all points in between, McGraw Hill (MH) works with 96% of school districts in the United States and reaches more than 20 million students. Their world-class education solutions empower the teacher by providing data, content, and workflow solutions for the full range of student abilities in the modern classroom. MH's focus on educational equity, affordability, and efficacy help learners build better lives. One of the few companies that provide a full suite of learning solutions, MH has an enormous impact on the education landscape.
Headquartered in New York City, McGraw Hill has offices across North America, Asia, Australia, Europe, the Middle East, and South America, and makes its learning solutions for PreK–12, higher education, professionals, and others available in more than 80 languages. The US K-12 business is centered in Columbus, OH with key executives in NY, DC, Chicago, CA, and elsewhere.
In this brief clip Sean Ryan, President McGraw Hill K-12, discusses his goals for the business
MH provides digital, hybrid, and print solutions to meet Core Curriculum, Supplemental, and Intervention needs across all major subject areas.
MH is in market with modern Mathematics, Science, and Social Studies curricula and in the early stages of contemplating its Next Generation Literacy solution. Not only do these programs address 100% of state standards, but also they are designed to generate actionable information for the teacher and the student, as well as parents and administrators over time. With a robust product pipeline and a healthy balance sheet, the only limitation is one of imagination.
Learning science is woven into MH's entire product lifecycle. Product conceptualization starts with the latest scientific understanding, and a comprehensive research plan is phase one of every major core curriculum initiative.  McGraw Hill has an incumbent advantage and an insurgent mentality with respect to new program development.
The Private Equity Investors
Platinum Equity is a global investment firm with more than $25 billion of assets under management and a portfolio of approximately 40 operating companies that serve customers around the world. Platinum Equity specializes in mergers, acquisitions, and operations — a trademarked strategy it calls M&A&O® — acquiring and operating companies in a broad range of business markets, technology, telecommunications and other industries. Over the past 25 years Platinum Equity has completed more than 300 acquisitions. Under Platinum Equity's ownership, MH is in position to operate as a platform for the instantiation of the education industry's best ideas.
Vector Capital is a San Francisco-based leading global private equity firm focused on transformative investments in technology and technology-enabled businesses. Founded in 1997, Vector oversees approximately $4 billion of capital across its private equity and credit strategies from a variety of investors including university endowments, foundations, and financial institutions. Vector exclusively focuses on investments within the technology sector and has built a successful track record of executing buyouts, carve-outs, recapitalizations, minority, and credit investments. With their disciplined approach to valuation and deep-rooted operational experience, Vector has generated competitive returns and established a successful track record spanning nearly 25 years. They bring a wealth of experience related to software development and subscription-based businesses.
Opportunity
As an industry thought leader and the senior educator within McGraw Hill, the Chief Academic Officer will lead a team of content, design, and instructional experts to create market-leading Core Curriculum Programs across all major disciplines — PreK-12 — for delivery in traditional, online, and hybrid environments. A member of the School Business Unit, with revenues in excess of $850m annually, the CAO will lead with a vision of what effective, digitally enabled teaching and learning will look like in the coming decade, apply learning science principles, ensure cross-curricular linkages, integrated assessment, and comprehensive standards coverage.
The Chief Academic Officer will report to the President of K-12 and collaborate closely with the Chief Innovation Officer, the SVP of Program Management, the Chief Sales Officer, the Chief Financial Officer, and the Chief Product Officer.
Primary responsibilities:
Understand the instructional materials needs of the modern classroom and marshal MH's vast resources to build aligned, future-friendly programs embraced by teachers and enjoyed by students
Serve as a credible spokesperson on subjects ranging from the state of education today to the possibilities of tomorrow
Conceptualize industry leading digital component instrumentation, an improved authoring environment, and the integration of user-created and open-source content
Develop and implement a vision for the content creation process that is flexible and supports a digital, hybrid, and print student experience
Create a content roadmap, in collaboration with senior leadership aligned to predictable market demand, formal requirements, and intelligent speculation about the evolution of the industry
Lead program development from the ground up with Intervention and Supplemental integration in mind
Ensure that all content reflects the diversity of the communities served by McGraw Hill and promote equity and inclusion for all
Exceed the quality standards for outside evaluators such as EdReports, ensuring that academic integrity is a defensible and evident signal in an otherwise noisy environment awash in unstudied opinions. Truth and accuracy are non-negotiable.
A future at McGraw Hill K-12 includes:
A unique opportunity to impact K-12 education in the US and abroad at a scale that only a handful of companies enjoy
The challenge of working on a complex and dynamic solution set with the potential to give educators an information advantage in their important daily mission
The opportunity to work with a rare peer group of high-energy, high-clock-speed thinkers with a missionary zeal to transform education for the better for everyone
An expectation that you will be the architect of your own team's design
A culture that challenges the status quo, despite preconceptions you may have
The flexibility to live anywhere in the United States
Travel will include a week per month at the MH offices in Columbus, OH and a week per month in the field or other MH offices in the US.
Compensation will include salary, performance bonus, and equity commensurate with the individual's senior level and experience.
Ideal Candidate
The ideal CAO candidate has market-leading passion, vision, energy and inspires and develops other experienced professionals.  You are already an exceptional leader with impeccable academic credentials but recognize that ideally, no one hits their professional ceiling until retirement.  You are a reformer, with an internal locus of control; you are optimistic, confident yet humble, enthusiastic yet patient, and comfortable being the lone dissenter in professional arguments.  You are able to curb your ego if decisions reflect a different thesis; you are a lifelong learner and an autodidact who aims to both benefit and serve in nearly every human interaction.
You should have the following experiences and skill sets:
Deep understanding of the modern classroom from a practitioner's point of view
Expertise in K-12 instruction, curriculum, and pedagogy
Successful experience developing solutions for the education market with digital componentry
Outstanding leadership and people-management skills with the ability to successfully motivate and challenge a team of talented and creative people at all levels of the organization
Demonstrated ability to serve as a thought leader with the ability to network with academics, politicians, and school leaders
An utter lack of complacency
Outstanding academic credentials, including a Ph.D. in an education-related field is preferred
Professional courage
Skill at driving innovation and leading large, complex teams through organizational change of both a rapid and continuous nature
Demonstrated ability to collaborate and work cross-functionally with strong communication and influence skills
A poised media presence
Ability to conceptualize workflows to improve upstream product development processes
Sees problems as puzzles to be solved, not barriers to be overcome
Highly analytical mind with the spirit of a poet
Learn More
The Knowledge Leaders search process is thorough and may include: a written assessment, multiple interviews (recorded and in person), background and social media checks, employment and education verifications, a drug screen, and professional reference checking. After all, our mission is to transform education by recruiting the best world leaders.
If you have not already, submit your resume to Alison Thompson at Knowledge Leaders: Alison@knowledgeleadersgroup.com.
Knowledge Leaders, LLC provides equal employment opportunities to all applicants and candidates for employment. Knowledge Leaders, LLC prohibits discrimination and harassment of any type based on race, color, religion, age, sex, national origin, disability status, genetics, protected veteran status, sexual orientation, gender identity or expression, or any other characteristic protected by federal, state or local laws.