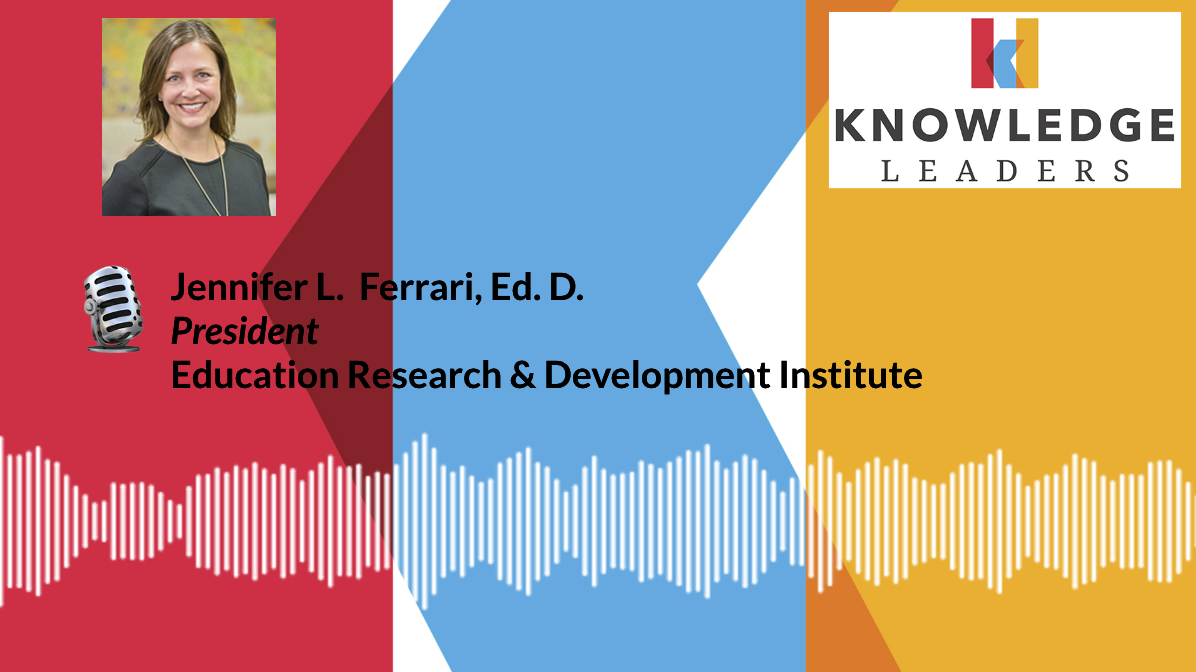 Jennifer L. Ferrari, Ed. D., President of Education Research & Development Institute, joins Todd Hand and April Sarraille of Knowledge Leaders to discuss her work with ERDI, the blend of education leaders and education technology leaders, as well as the events held by ERDI annually. She gives her advice, as an educator, to EdTech CEO's selling into K-12 spaces, and how collectively, education can be made better through discussion.
Jennifer was the first female president hired in ERDI and has spent the entirety of her career helping children through education. She talks about the work ERDI is doing to build up female leaders in education and support and open doors for those involved in their Women's Fellowship Network.
Learn more in this episode of the Knowledge Leaders Podcast, hosted by Todd Hand.
Listen to the Full Podcast Here
Podcast Transcript Excerpt
Todd Hand: At your events, you're bringing together thought leaders, superintendents, and leaders in K12 education. But you're also inviting education technology CEOs to the discussion. Talk a little bit about how that dialogue works.
Jennifer Ferrari: I think whenever you're looking at a change movement, you need to make sure that all influencers and all people who are contributing to the solution need to be at the table. And so yes, we have education leaders, we have education designers, but we have technology leaders, we have strategic insights for advising in general around corporate strategy all at the table because, if we're working together towards a common goal, we're going to be able to move the work faster, and more robustly than if we were to try to do this in silos, and that, if I could put it in a nutshell, is the magic of ERDI. When I would go to an ERDI institute, I felt like I arrived in the future, and then came back home to work in my district with an insight that almost allowed me to intuit where things were going to go based on what I'd seen from the cutting edge research and design and development and products that were just on the forefront. That is the power. It's the collective thought, partnership, and collective thinking that happens at an institute that makes it a powerful, colorful experience.
Share this by video on social: