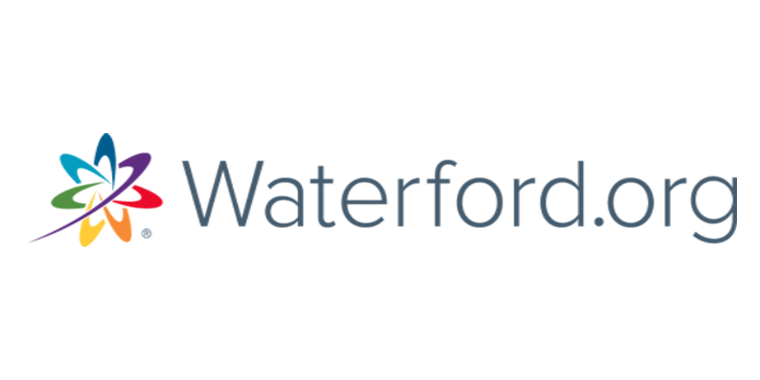 Waterford.org CEO, Andy Myers
The Company
Waterford.org is a national, not-for-profit organization committed to advancing equity and excellence for young learners. They do this by developing programs and partnerships that mediate the barriers families experience accessing high-quality early learning resources. Waterford delivers adaptive learning software for children ages 3-8, educator professional development, and family/caregiver resources combined with 1:1 coaching.  Waterford is dedicated to developing accessible, high-quality learning programs for all children, regardless of background, means, location, or other circumstances. With commitment to equity and access, they can ensure all children have the opportunity for success.
Waterford strives to help children build a strong foundation in literacy so that every student reads at grade level by the end of second grade. They believe the best educational outcomes occur when teachers, families, and communities' partner together to support student learning.
Waterford's commitment to inclusive excellence is foundational to achieving the mission of universal literacy. Waterford.org is a mission-driven organization. Diversity, equity, and inclusion (DEI) is at the heart of what they do. These values inform their internal culture and drive the external focus on making a difference for children and families in communities that have been underserved.
Opportunity
Reporting to the CEO the EVP of School Relations leads the sales and partnership activities with preK-12 schools and school districts throughout the U.S. They can see the big picture, have a track record of hitting the numbers, and lead with ease with an inclusive lens. This new sales leader is dedicated to growing the skills of team members through intentional and inspirational coaching and mentoring.  They must serve as a bridge between where Waterford is currently at $70 million and scaling to $150 million.
Primary responsibilities:
Meet assigned goals for School Relations annual bookings target and gross and net renewal rates
Collaborate with Community Engagement (part of the Advocacy team) to establish partnerships with schools and districts
Work closely with Government Relations (part of the Advocacy team) on state and philanthropic projects
Evaluate, upgrade where necessary, and "lead by example" to drive the sales team to achieve agreed-upon sales goals
Work with executive leadership to craft a strategy to increase Waterford's reach from 300,000 to 1 million children served annually.
Ideal Candidate
The EVP of School Relations has a understanding of the PreK-3 educational landscape, are data-driven, with extensive experience in sales, and elevating team capabilities. They value all people for their unique talents and take an active role in driving practices that advance diversity, inclusion, and cultural competence. They have created a strategic plan for revenue growth that you can iterate and evolve for Waterford. They can navigate ambiguity appropriately and adapt well to new situations, obstacles, and opportunities.
Viable candidates should have the following experiences and skill sets:
Track record of hiring, motivating, and coaching a team of high-performing sales and account professionals
An understanding of curriculum and assessment principles and best practices for PreK and early elementary grades
A track record of success in the education field and understanding of and experience in the PreK-3 sales cycle with expertise in district level decision-making and sales
Experience leading and inspiring teams through change
A mindset of accountability, collaboration, and values-driven leadership to achieve impact
Learn More
The Knowledge Leaders search process is thorough and may include: a written assessment, multiple interviews (phone, video, and recorded), background and social media checks, employment, and education verifications, and professional reference checking. After all, our mission is to transform education by recruiting the best world leaders.
Submit your resume to Tasha White at Knowledge Leaders.
Knowledge Leaders, LLC provides equal employment opportunities to all applicants and candidates for employment. Knowledge Leaders, LLC prohibits discrimination and harassment of any type based on race, color, religion, age, sex, national origin, disability status, genetics, protected veteran status, sexual orientation, gender identity or expression, or any other characteristic protected by federal, state, or local laws